Pulled Pork Sandwiches with Caramelized Onions and Berry BBQ Sauce
Skillet Summer Squash and Garden Salad
Knights Bridge Petit Verdot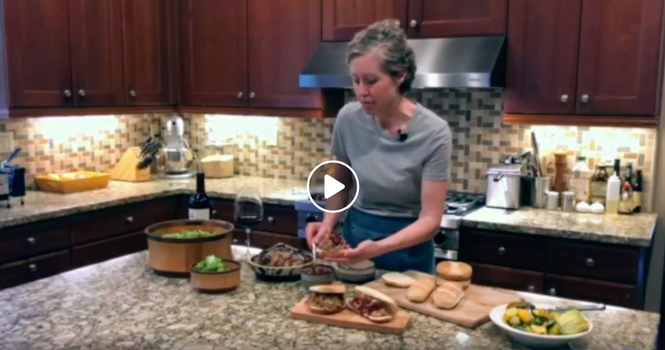 Serves: 6
Prep time: 45 minutes
Cook time: 2 hours
This entire meal only takes two hours from start to finish. While the pork is cooking in the Instant Pot, prepare the BBQ sauce, caramelize the onions, and sauté the summer squash for a feast of delicious flavors. Whether you're planning a family gathering for Father's Day or a BYO picnic, pulled pork and Petit Verdot share the limelight as perfect partners alongside berry-inspired BBQ sauce.
Instapot Pulled Pork
4lb Pork Butt or Shoulder Roast, boneless or bone-in
3 tablespoons brown sugar
2 teaspoons salt
1 teaspoons ground mustard
1 teaspoon fresh ground black pepper
1 teaspoon onion powder
1 teaspoon smoked paprika
½ teaspoon garlic powder
¼ teaspoon cayenne pepper
2 tablespoons olive oil
2 cups chicken broth
2 teaspoons Worcestershire sauce
2 teaspoons soy sauce
1 teaspoon liquid smoke
Method
Trim fat from pork roast and cut into four pieces. Mix all dry ingredients in a large bowl then add pork roast pieces and coat well. Add 2 tablespoons olive oil to Instant Pot and set to sauté. Sear pork pieces on all sides, one or two at a time, for about one minute on each side. Remove pork and set aside on a plate. Repeat with remaining pork pieces. Once pork is seared, press cancel, add ½ cup chicken broth, and deglaze bottom of pot, using a wooden spoon to scrape up all the bits. Then add remaining chicken broth, Worcestershire sauce, soy sauce, liquid smoke, and seared pork. Secure lid and make sure vent is set to sealing. Pressure cook on high pressure for 60 minutes, then let pressure release naturally for 30 minutes or until pin drops. Remove pork to a large bowl or cutting board and shred. Add a few tablespoons cooking liquid from pot to moisten, then pile pork on soft buns or rolls and serve with caramelized onions and berry BBQ sauce.
Caramelized Onions
2 large yellow onions, peeled (about 1 pound) and sliced into ¼" rounds
2 tablespoons unsalted butter
2 tablespoons olive oil
Kosher salt
Method
Heat butter and olive oil in skillet over medium heat. Add onions and cook, stirring often, for about 10 minutes. Reduce heat to low and continue to cook, stirring occasionally, until deep golden, 50 to 60 minutes. Season to taste.
Berry BBQ Sauce
2 cups assorted berries (raspberries, blackberries, blueberries, and/or mulberries)
2 tablespoons brown sugar
½ teaspoon whole cloves
½ teaspoon whole black peppercorns
1 teaspoon salt
½ teaspoon cayenne pepper
¾ cup red wine vinegar
¼ cup red wine
4 – 5 kumquats, sliced (or ½ orange sliced)
2 cups tomatoes, coarsely chopped
Method
Place all ingredients in heavy-bottomed pot, bring to a boil, then reduce heat and simmer uncovered, stirring occasionally, for an hour or more, until sauce is thickened. Remove from heat, strain through fine mesh sieve, adjust seasonings. Serve alongside pulled pork sandwiches. Store any leftover sauce refrigerated in an airtight container for up to two weeks.
Skillet Squash
1 T extra-virgin olive oil
1 T butter
2 cloves garlic, minced
2 zucchinis, trimmed and sliced into ½" rounds
2 yellow squash, trimmed and sliced into ½" rounds
2 T homemade chicken broth (or low sodium canned broth)
Salt and pepper to taste
Freshly grated Parmesan cheese (optional)
Method
In a 10- or 12-inch skillet, heat the butter and olive oil over medium heat until hot; add the zucchini and yellow squash and sprinkle with salt and pepper and chicken broth. Sauté, shaking the pan or stirring occasionally, about 7 minutes, until cooked but still somewhat firm. Season with additional salt and pepper to taste and top with freshly grated Parmesan, if desired; serve immediately.
Garden Salad
5 cups fresh garden greens, rinsed
1 Persian or English cucumber, diced
2 T Extra Virgin Olive Oil
2 T Balsamic vinegar
Salt and pepper to taste
Method
Toss all ingredients; serve immediately.