Dog Days of Summer: Santa Cruz to Calistoga Weekend Wine Trip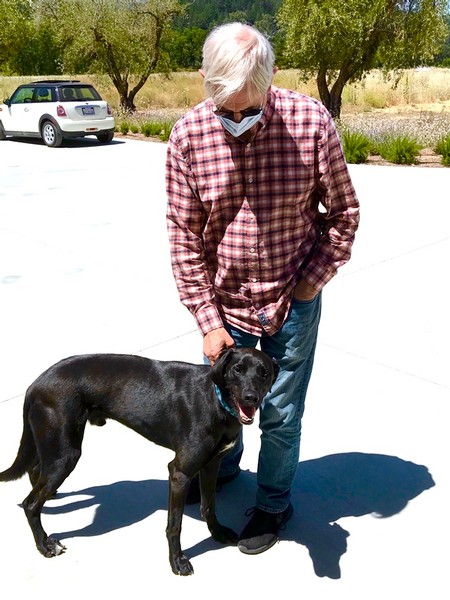 Your summer getaway during the dog days of summer will be even cooler with your furry best friend by your side! This Calistoga wine weekend itinerary is pup-friendly and just a short drive from Santa Cruz County. Utilize this itinerary as a template to curate your own perfect weekend in Calistoga. Cheers!
Friday
---
6:00 pm
Plan ahead and leave directly after work to get started on your vacation! Arrive in Calistoga Friday night and check-in to Solage, an Auberge Resort & Spa [755 Silverado Trail North, Calistoga]. With accommodations for your dog, Solage is the ideal relaxing escape.
Saturday
---
6:00 am
Book a hot air balloon flight first thing in the morning with Calistoga Balloons [1458 Lincoln Avenue #15, Calistoga]. It's quite an early wake-up call by vacation standards, but a truly memorable, once-in-a-lifetime experience. Your dog will need to snooze back at the hotel as you take flight.
10:00 am
After you've landed, head to Acacia House in the Las Alcobas Hotel [1915 Main Street, St. Helena] and enjoy a brunch of Chilaquiles and Margaritas. You'll enjoy some of the best Mexican-inspired cuisine in the valley!
12:30 pm
Back at Solage, take your four-legged best friend for a jaunt around the beautiful grounds or if you're up for a longer walk of about a mile, stroll over to Calistoga and enjoy window shopping along Lincoln Avenue, the main street through town.
2:00 pm
Experience an afternoon of pet-friendly wine tasting at Knights Bridge Winery | Huge Bear Wines, located downtown in the historic Calistoga national bank building [1373 Lincoln Avenue, Calistoga]. We craft elegant, small-lot single varietal wines and distinctive blends with fruit from our Knights Valley estate vineyard. Take advantage of the lovely weather with a tasting outdoors in our shaded bistro seating area. For your convenience, wines purchased can be held for you to collect at the end of your stay. For a taste of our wines in advance of your trip, we're pleased to extend $1 flat-rate temperature-controlled ground shipping on your first order. Visit knightsbridgewinery.com/1dollarshipping for details.
4:00 pm
Head back to the resort to relax and freshen up. Pre-chill a bottle of our KB by Knights Bridge Sauvignon Blanc to take along and enjoy at dinner.
6:00 pm
Pack up your pup and drive to the Bird & the Bottle [1055 4th Street, Santa Rosa]. You'll experience a cozy dining experience on the front porch with a variety of local fare small plates ideal for sharing.
Sunday
---
9:00 am
Enjoy a fresh, farm-to-table breakfast at a local favorite, Sam's Social Club [1712 Lincoln Avenue, Calistoga]. Try their summer vegetable omelet, avocado toast, or Belgian-style waffles to fuel up for the day. Patio seating is available for you and your dog.
10:30 am
Take a leisurely walk or challenging hike at Oat Mill Mine Trail [2082 Oat Mill Mine Trail, Calistoga]. The trail follows an old stagecoach road, and you'll journey through a diverse landscape of forests and grasslands.
1:00 pm
Head for lunch at the Calistoga Inn Restaurant & Brewery [1250 Lincoln Avenue] before leaving town. Their local, sustainable menu features fresh Pacific seafood, seasonal salads, and wood-fired pizzas and pets are welcome.
2:30 pm
Pick-up your wines from Knights Bridge Winery | Huge Bear Wines on your way out of town. Enjoy planning your next visit to Calistoga on the way back to Santa Cruz!

We are delighted to assist with additional recommendations for your trip. Please reach our team at 707.341.3391, contact@knightsbridgewinery.com, or through the chat feature via our website.