April 7, 2020 | Wine & Food Pairings | Knights Bridge Winery
Pancetta, Mushroom & Asparagus Risotto
Pancetta, Mushroom & Asparagus Risotto
Knights Bridge Cabernet Sauvignon or Pont de Chevalier Chardonnay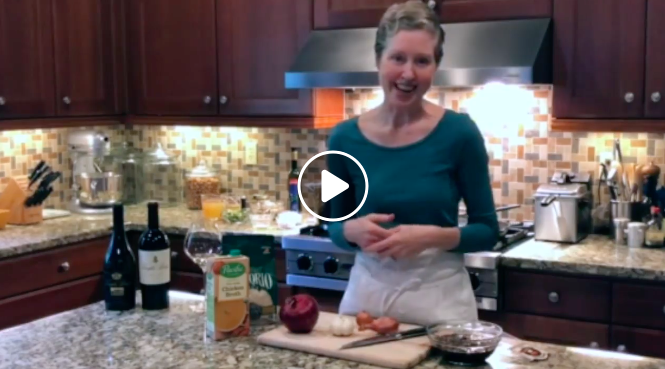 Serves: 4
Prep time: 15 minutes
Cook time: 30 minutes
Risotto
5 T extra-virgin olive oil
4 shallots or 1 medium onion, medium dice
3 cloves garlic, minced
3 oz. pancetta, minced
4 rounds pancetta (keep whole)
4 oz. fresh wild mushrooms, sliced
1 oz. dried mushrooms, soaked in 1 cup hot water
6 oz. fresh asparagus, trimmed and cut into 2-inch slices
2 cups Arborio rice
5 cups homemade chicken broth (or low sodium canned broth)
1 cup white wine
¾ cup grated Parmigiano-Reggiano cheese
Salt and pepper to taste
Fresh thyme (optional)
Salad
4 cups fresh baby greens
½ cup broccoli florets
½ cup cauliflower florets
Juice of 1 small lemon
1 T Dijon mustard
1 T sour cream
3 T Extra Virgin Olive Oil
Salt and pepper to taste
Method
Remove dried mushrooms from soaking liquid and strain liquid using cheesecloth or a coffee filter to remove any dirt. Rinse mushrooms in wire strainer then coarsely chop; set aside strained soaking liquid and mushrooms separately. Heat 3 tablespoons olive oil in a heavy, wide pot, over medium heat. Add shallots or onion, garlic and pancetta; sauté, stirring frequently, 3 minutes. Add rice and cook another 4 minutes, stirring frequently. Add reserved dried mushrooms and cook 1 minute. Add chicken broth, white wine, and mushroom soaking liquid, bring to a boil, then reduce heat to a low simmer, stirring occasionally, 15 – 20 minutes. While rice is absorbing liquid, heat remaining 2 tablespoons olive oil in large skillet, add mushrooms and cook for 3 minutes, add asparagus and cook another 3 minutes, set aside. Cook pancetta rounds until crisp, set aside.
To make salad, bring 4 cups water to a boil in a medium saucepan; have ready a large bowl of ice water. Drop broccoli and cauliflower florets into boiling water for 15 seconds; remove immediately and submerge in ice bath until cool; drain and set aside. Place lemon juice, mustard, sour cream and olive oil in jar with lid; seal lid and shake vigorously until thick and creamy. Toss greens with dressing, add broccoli and cauliflower, season to taste.
Continue cooking risotto until rice is creamy but still somewhat firm in center. Stir in fresh mushrooms, asparagus and cheese; adjust seasonings. Garnish each dish with round of pancetta, fresh thyme if desired, and additional grated parmesan. Serve immediately alongside salad and pair with a glass of Knights Bridge Cabernet Sauvignon or Pont de Chevalier Chardonnay.