July 3, 2020 | Wine & Food Pairings | Knights Bridge Winery
Cajun Tri-tip Sandwiches + Linville Cabernet Sauvignon
Cajun Tri-Tip Sandwiches
2016 Knights Bridge Linville Cabernet Sauvignon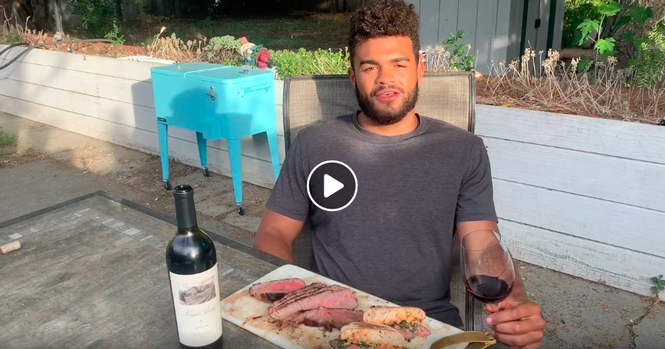 Try these Cajun Inspired Tri-Tip Sandwiches with the Knights Bridge Linville Cabernet Sauvignon!
Ingredients
2.5 lbs. tri-tip (we like Five Dot Ranch beef)
1 tsp. salt
2 tsp. black pepper
1 tsp. paprika
1 tsp. smoked paprika
1 tsp. smoked sea salt
¼ tsp. cayenne pepper
1 sprig rosemary, minced
1 shallot, minced
1 clove fresh garlic, minced
2 tbsp. mayonnaise
Pimento Cheese Spread
1 cup extra sharp cheddar cheese, grated
½ cup cream cheese
3 tbsp. mayonnaise
¼ cup roasted red peppers, finely chopped
2 tbsp. Louisiana Hot Sauce
Salt and Pepper to taste
"Collard" Kale
2 cups shredded Kale
1 tbsp. olive oil
1 tbsp. Louisiana Hot Sauce
Salt and Pepper to taste
Sandwich Bun
Model bakery hamburger bun
Cut in half, and brush olive oil on middle of the bun
Grilled to desired toastiness
Method
Mix all rub ingredients together in bowl then rub on tri-tip. Place in airtight container and refrigerate overnight, or up to 24 hours. An hour before cooking, remove from refrigerator. Prepare charcoal grill or heat a gas grill to high. Place roast on grill and sear one side well, 6 minutes, checking for flare-ups. Turn the roast and sear other side for about the same time. Then lower gas to medium or move the meat to a cooler part of the charcoal grill to cook using indirect heat. Turn meat every 8 minutes; a 2 ½ pound roast will require about 30 minutes total cooking time. The roast is ready when an instant-read thermometer reaches 130 degrees when inserted into the thickest part of the meat. Rest roast on a cutting board 10 minutes.
While roast is cooking and then resting, assemble other elements. To make "Collard" Kale, heat olive oil in pan over medium-high heat, add shredded Kale, cook, stirring occasionally, about 7 minutes, until tender; add hot sauce, salt, and pepper to taste. To make Pimento Cheese Spread, mix all ingredients together in bowl. Grill sandwich bun once Tri-tip is finished. Slice meat against the grain, assemble sandwiches and serve immediately with a glass of 2016 Knights Bridge Linville Cabernet Sauvignon.