August 8, 2020 | Wine & Food Pairings | Knights Bridge Winery
Ratatouille with Baked Eggs, Garden Salad, Toasted Bread with Olive Oil
Ratatouille with Baked Eggs, Garden Salad, Toasted Bread with Olive Oil
KB by Knights Bridge Red Blend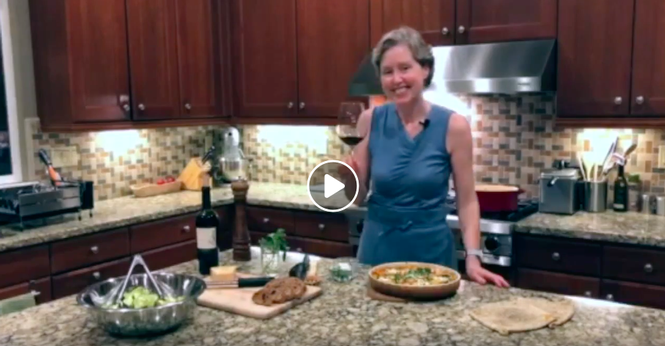 Serves: 6
Prep time: 30 minutes
Cook time: 2 hours
The Ratatouille can be made a day ahead and then warmed up just before adding the eggs. Enjoy this homey fresh-from-the-garden vegetarian dish with the bright and earthy KB by Knights Bridge Red Blend.
---
Ratatouille
Ingredients
⅓ cup extra-virgin olive oil
2 large yellow onions, cut into 1-inch pieces
8 large garlic cloves, peeled and smashed
Salt and pepper
1½ teaspoons herbes de Provence or fresh bouquet garni
¼ teaspoon red pepper flakes
2 bay leaves
1½ pounds eggplant, peeled and cut into 1-inch pieces
2 carrots, peeled and diced
2 pounds plum tomatoes, peeled, cored, drained, and chopped coarse
2 small zucchini, halved lengthwise and cut into 1-inch pieces
2 small crookneck squash, cut into 1-inch pieces
1 red bell pepper, stemmed, seeded, and cut into 1-inch pieces
1 yellow bell pepper, stemmed, seeded, and cut into 1-inch pieces
1 teaspoon sherry vinegar
6 eggs
3 tablespoons shredded Reggiano Parmesan
2 tablespoons chopped fresh basil
This dish is best prepared using ripe, in-season tomatoes. If good tomatoes are not available, substitute one 28-ounce can of whole peeled tomatoes that have been drained and chopped coarse.
---
Method
Adjust oven rack to middle position and heat oven to 400° F. Heat olive oil in large Dutch oven over medium heat until shimmering. Add onions, garlic, 1 teaspoon salt, and ¼ teaspoon pepper and cook, stirring occasionally, until onions are translucent and starting to soften, about 10 minutes. Add herbes de Provence, pepper flakes, and bay leaf and cook, stirring frequently, for 1 minute. Stir in eggplant and tomatoes. Sprinkle with ¼ teaspoon salt and ¼ teaspoon pepper and stir to combine. Transfer pot to oven and bake, uncovered, until vegetables are very tender and beginning to caramelize, 45 minutes.
Remove pot from oven and stir in zucchini, squash, bell peppers, ¼ teaspoon salt, and ¼ teaspoon pepper and return to oven for another 45 minutes. Remove, discard bay leaf and bouquet garni, if using, stir in 1 tablespoon basil and sherry vinegar. Transfer about ¾ of Ratatouille to large, flat pie, casserole or tart dish. Make 6 small indentations with the back of a spoon and carefully crack the eggs into each. Return to oven for about 7 minutes, until eggs are just set. Remove from oven, sprinkle with remaining 1 tablespoon basil and parmesan. Season with salt and pepper to taste and serve alongside bread sliced, brushed with olive oil, and toasted plus a light salad of garden greens, cucumbers, olive oil and balsamic vinegar.