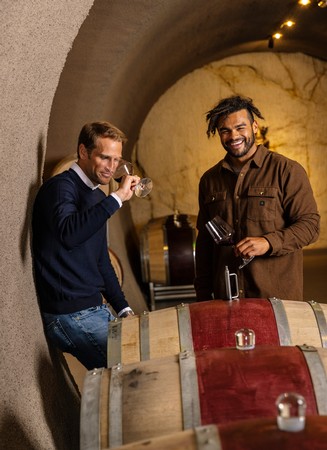 2023 Knights Bridge Noortwyck Winemaker Dinner
SOLD OUT Join Winemaker Derek Baljeu and family member John Bailey for a captivating evening in New York. We invite you to join Knights Bridge Winery for an intimate dinner prepared by Noortwyck Chef Andrew Quinn alongside Sommelier Cedric Nicaise. The Knights Bridge team will guide an exploration of our estate wines poured alongside each course.
Please contact Alicia Antone at aantone@knightsbridgewinery.com or 707.341.3414 with any questions.
Monday, March 6, 2023 at 7:30pm
Noortwyck
289 Bleecker St, New York, NY, 10014
$200 per guest



---
Menu
---
Fluke Crudo
2020 Knights Bridge Sauvignon Blanc, Pont de Chevalier
2019 Knights Bridge Sauvignon Blanc, Fairview
Tortelli with Sunchoke and Black Truffle
2020 Knights Bridge Chardonnay, West Block
2018 Knights Bridge Chardonnay, East Block
Grilled Short Rib with Toasted Hay and Cabbage
2017 Knights Bridge Cabernet Sauvignon, Estate Vineyard
2019 Knights Bridge Cabernet Sauvignon, Linville
Truffled Cheddar Rarebit with Black Truffle
2017 Knights Bridge Cabernet Sauvignon, Estate Vineyard
2019 Knights Bridge Cabernet Sauvignon, Linville