Menakka & Essel Bailey
---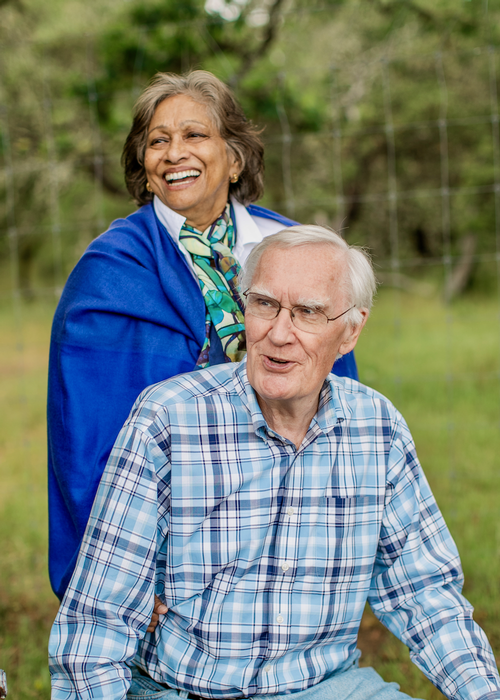 Born in Sri Lanka, Menakka Bailey came to the US with her family in the late 1950s when her father, Oliver Weerasinghe, came to New York to serve with the United Nations as an architectural consultant and town planner. In 1965 he was named Sri Lankan ambassador to the United States and served in that capacity in Washington until 1974. Her mother, Christobel Weerasinghe, was a representative at the United Nations for the World Federation of the United Nations Association and created a series of multi-national written and recorded cultural materials for children.
Menakka went to boarding schools in England and in Massachusetts. She is a graduate of Bryn Mawr College and has advanced degrees in anthropology from Cambridge University in England, the University of Pennsylvania, and the School of Public Health at the University of Michigan.
Since 1992 Menakka has been a Managing Director of Alpha Capital Inc., of Ann Arbor, an investment management company of private investments in long term care for the elderly and technology enterprises. She is a Principal in Orion Care Services, which provides financing to the Long-Term Care industry. She is also president of a private family foundation and serves on several local not for profit boards. Prior to this she taught Social Anthropology at the University of Michigan and Michigan State University.
In 2006, Menakka, husband Essel, and brother-in-law Jim Bailey purchased a vineyard in Knights Valley, California and founded Knights Bridge Winery.
---
Essel Bailey is a lawyer, corporate executive, and private investor. He has organized and run two public companies, has served as a director or chaired the Board of three NYSE listed companies and has spent the last 35 years engaged in the capital markets, dealing with rating agencies, investment and commercial banks, and other global financial organizations. He has invested in, organized and/or managed businesses in real estate and real estate finance, healthcare and manufacturing in the United States, the United Kingdom and in Australia.
Educated at Cranbrook School, Bloomfield Hills, Michigan and Wesleyan University, Middletown Connecticut (where he serves on the board of Trustees), he also holds a JD degree from the University of Michigan Law School. He is a member of the American Bar Association and the Michigan Bar Association. After several years in Michigan state government, Mr. Bailey spent 15 years with the Detroit law firm Dykema Gossett, where he was a partner specializing in corporate and real estate finance.
Mr. Bailey has served as a director of corporations including Vitalink Pharmacy, Inc (NYSE), Evergreen Healthcare, Inc (NYSE) as well as several private companies of which he was also a principal. He organized and capitalized in public offerings Omega Healthcare Investors, Inc (CEO, NYSE) and Omega Worldwide, Inc (CEO, NASDAQ) and served as a director of the National Association of Real Estate Investment Trusts. He continues to serve as a director/officer of several private companies related to healthcare and healthcare finance, where he is also a principal, and to the Michigan Chapter of The Nature Conservancy.
Born on his grandparent's farm in Tennessee and raised on a sod farm in Michigan, in 2006 he and his brother Jim Bailey purchased a vineyard in Knights Valley, California and founded Knights Bridge Winery. Long interested in French wines, he is a member of French wine trade groups, Chevalier du Tastevin and the Commanderie du Bordeaux.