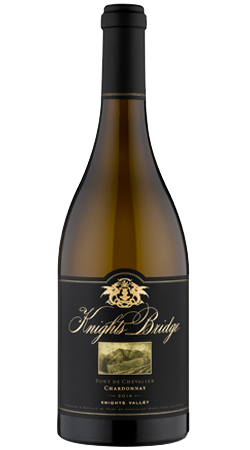 2014 Knights Bridge Chardonnay, Pont de Chevalier
The 2014 growing year was beautiful for both white and red wine grapes in Knights Valley. A dry spring gave us perfect weather and set us up for an abundant crop from which we could choose the optimal sections of our Chardonnay vineyard blocks for our Knights Bridge Estate Pont de Chevalier Chardonnay. The Pont style Chardonnay begins in the vineyard and seeks to emphasize the subtle nuances of varietal flavors intended for pairing with fine food.
The grapes were selected from well-shaded fruit to retain cooler climate character and freshness and were harvested in the pre-dawn hours on September 11th. They were then whole-cluster pressed upon arrival at the winery. The pressed juice was hyper-oxidized, settled for 3 days, and racked clean to French Oak barrels, 60% new. A cool primary fermentation, with little added yeast, encouraged rich fruit aromas and complexity. The wine completed malolactic fermentation at a slow and measured pace, forming a set of aromas and flavors that include French pastry and spice yet are still fruit forward. Stirring of the lees began after the malolactic fermentation had completed to avoid buttery flavors and to enrich the wine with a silky, seamless texture. The wine aged for 8 months in barrel prior to bottling and for an additional 11 months in bottle prior to release.
Wine Specs
Appellation
Knights Valley