Cindy & Tom Costin
---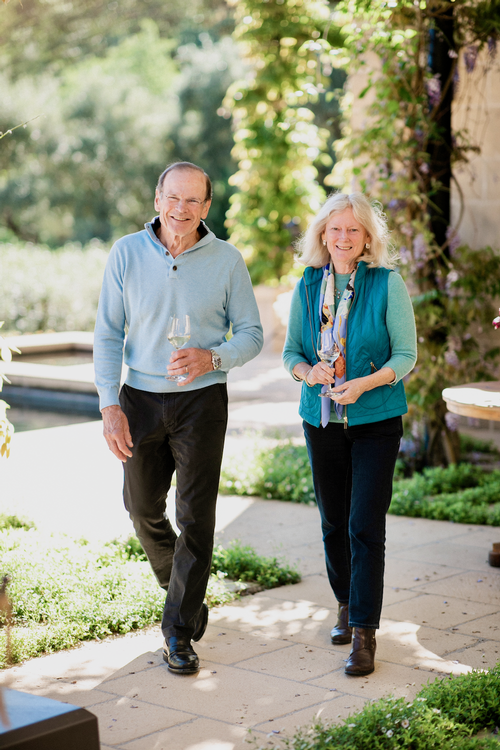 Tom grew up in a city 12 miles north of Boston, but his childhood summers were spent with his family in the rural environment of a small New Hampshire town where he developed a love of the land. He grew up in a family that eschewed wine and his first taste of anything alcohol came when he was 27 years old. He remembers thinking, "Why would anyone drink this?" With a life philosophy to do everything passionately, Tom's education in wine had begun; little did he realize that one day he would be a vintner.
Tom received his BA from Bowdoin College, where he met his wife Cindy, and they married upon graduation in 1973. He spent the next five years at an independent secondary school in Maine as Director of Admissions and swimming coach and then Assistant Headmaster. After receiving his master's degree in public administration from Harvard, he entered the footwear industry and today Cindy and Tom oversee a distribution company they acquired in 1979.
Cindy and Tom split their time between homes in California and the small town of Nahant, Massachusetts where Tom serves as a Trustee of his Town's Historical Society and is active in the Massachusetts Audubon Society and Bowdoin College alumni affairs. They have two children, Caroline and Tom, and five grandchildren.
In 2006, Tom co-founded Knights Bridge Winery with brothers Jim and Essel Bailey. Knights Bridge Winery has been an extension of a wonderful life with family and friends and an opportunity to bring together his love of the land and passion to produce world class wine and share this with others.
"The difference between tasting and simply drinking is thinking."