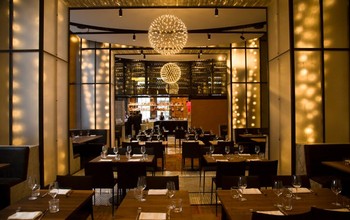 2020 Mourad Dinner Seat
UPDATE: We have postponed the dinner and will update our members in early April with the rescheduled date. Please call or email Alicia at 707.341.3391 or aantone@knightsbridgewinery.com with any questions and we hope that you and those you love are safe and healthy.
Please join us for a four-course wine dinner at Michelin-starred Mourad in San Francisco. Pairing menu created by Executive Chef and Owner, Mourad Lahlou, featuring wines from Knights Bridge Winery and Jericho Canyon Vineyard.
Mourad is a modern interpretation of a cuisine deeply rooted in the past. Their menu pays homage to those roots, showcasing the rich and vibrant flavors of Morocco in new ways that harmonize with the fresh, local, artisanal ingredients, and the spirit of innovation of Northern California.

Owner and Executive Chef Mourad Lahlou, considered by many as the pioneer of modern Moroccan cuisine, has created a modern, sophisticated Moroccan-inspired dining experience in the newly renovated PacBell building.
Mourad | 140 New Montgomery Street #1 | San Francisco
Complimentary, Curated Collection Members ǀ $175, Non-Members Seating is limited to 20 guests