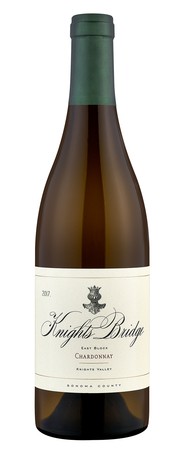 2017 Knights Bridge Chardonnay, East Block
2017 started off with record setting rainfall which pushed the growing season to a later start. In early April skies began to clear and the season began to look up with good cluster counts in our estate vineyard and the harvest window moved into a more typical range. As the last weekend of August gave way to September, heat made its way into Knights Valley. The next two weeks produced higher temperatures which allowed our Chardonnay grapes to finish ripening and develop complex flavors.
The perfume of East Block begins with enticing scents of chamomile, edelweiss and delicate linden flower that lead to citrus aromas of kumquat and Persian lime, suggesting a wine where the entire range of Chardonnay will be on full display. The palate is full of drive and energy with flavors of lemon, pear and freshly baked brioche, making for a wine that is compelling while still light on its feet. The 2017 vintage showcases all complexity of this grape, supported by lively movement and a persistent minerality
The bright and aromatic East Block Chardonnay is an incredibly versatile wine. Try seafood pairings such as oysters, ceviche, scallops, clams, lobster and langoustine. The rich and earthy flavors of Poulet Grand-mère with morel mushroom or Daniel Boulud's recipe for Blanquette de Veau are also excellent culinary partners.
Wine Specs
Appellation
Knights Valley
Harvest Date
September 5, 2017